Quantemol is proud to be a partner of the EU funded project PowerBase (May 2015 – April 2018), within Horizon2020 framework. The research project PowerBase is developing the next generation of energy-saving Chips and preparing them for mass industrial use in smartphones, laptop computers and many other applications. Coordinated by Infineon Austria, the project's € 87 million volume and 39 partners from nine countries. More details can be found here: http://www.powerbase-project.eu/
Press release Quantemol Powerbase project related dissemination activities October-November 2015
16/11/17 – 17/11/17
The Quantemol team presented a poster at the DPS Conference in Tokyo on the Bosch process. Check out our poster by Dr Sara Rahimi by clicking on the following link: https://www.quantemoldb.com/static/media/uploads/dps_poster_with_deliverables-2.pdf
29/10/17 – 03/11/17
The Quantemol team presented at the AVS Conference in Tampa, Florida. Check out our presentation titled 'TSV Etch Plasma Modeling from Chamber to Feature' by Dr Sebastian Mohr by clicking on this link: http://www.quantemol.com/wordpress/wp-content/uploads/2017/11/AVSTalk2017-1.pdf
03/04/17 – 06/04/17
The Quantemol team presented at IOP Plasma physics conference in Oxford, UK.
A poster on plasma chemistry validation and linking it within Powerbase project presented by A. Dzarasova "QDB: A new database of plasma chemistries and reactions – concept and exemplar verification"
21/11/16 – 22/11/16
Quantemol team presented at DPS conference in Sapporo, Japan.
A poster on plasma chemistry validation and linking it within Powerbase project presented by S. Rahimi "Constructing self-consistent validated plasma chemistry"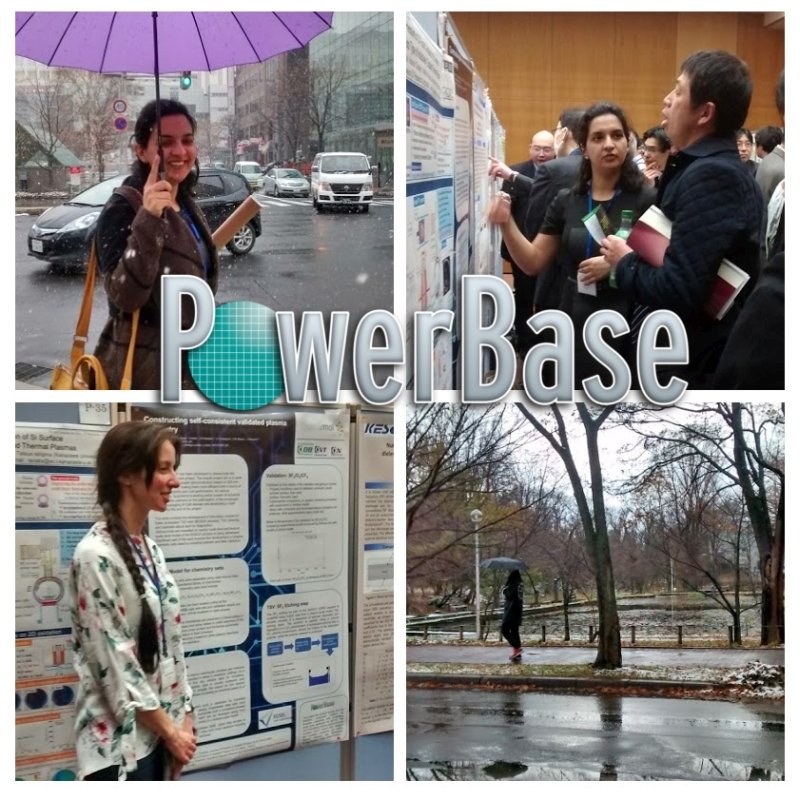 10/10/16 – 14/10/16
Quantemol team presented at GEC conference in Bochum, Germany.
Presentation slides of the talk given by S. Mohr "Simulating industrial plasma reactors: a fresh perspective"
A poster on plasma chemistry validation and distribution presented by A. Dzarasova "QDB: Validated Plasma Chemistries Database"
21/08/16 – 24/08/16
Quantemol team presented at International Workshop on Plasmas for energy and Environmental applications (IWPEEA) in Liverpool 21-24 August 2016.
We are very grateful to organisers for giving us an opportunity to talk about recent research including Quantemol database (QDB).
Here you can find presentation slides "QDB: A sustainable database for plasma chemistries" and a poster "Electron Impact Dissociation of Ground and Metastable States of O2 Molecule".

5/04/16
Quantemol team visits SPTS site for collaboration update by SPTS and Quantemol on the European Powerbase project; reports on significant progress and further development of BOSCH process modeling.
5/11/15
Presentation of the poster at "Dry Process Symposium" in Japan (Awaji):
DPS 2015: "Linking reactor-scale plasma modeling with feature-scale profile simulation"
22/10/15
Presentation of the poster at "American Vacuum Society Symopsium" in US (San Jose, CA)
AVS 2015: "From Plasma Reactor to Surface Level: Linking Plasma with Feature Profile Simulations"